The advent of blockchain technology has revolutionized various industries, and one area that has significantly benefited from its implementation is online marketplaces for used goods. In the digital age, these platforms have gained immense popularity, allowing individuals to buy and sell pre-owned items with ease. However, they often face challenges related to security, trust, and transparency. Blockchain technology provides a viable solution to these issues, offering a secure and transparent environment for conducting transactions. In this article, we will explore how blockchain ensures the security and transparency of online marketplaces for used goods, its benefits, real-world examples, integration possibilities, and the future potential of this technology.
Introduction to Blockchain Technology
Blockchain is a decentralized and distributed ledger technology that enables the recording and verification of transactions in a secure and transparent manner. It operates on a network of computers, known as nodes, where each transaction is recorded in a block and linked together in a chronological chain. This technology eliminates the need for intermediaries, such as banks or third-party payment processors, as it relies on consensus mechanisms and cryptography to ensure the integrity of the data.
Overview of Online Marketplaces for Used Goods
Online marketplaces for used goods have gained significant traction in recent years. These platforms provide individuals with a convenient way to sell their unwanted items and allow others to find great deals on pre-owned products. Examples of popular online marketplaces include eBay, Craigslist, and Facebook Marketplace. However, despite their convenience, these platforms often face challenges related to security, trust, and transparency.
Challenges Faced by Online Marketplaces
One of the major challenges faced by online marketplaces is the lack of trust between buyers and sellers. Since transactions occur remotely, there is always a risk of fraud or receiving counterfeit goods. Additionally, disputes and disagreements regarding the condition or authenticity of the items can arise, leading to potential conflicts.
Another challenge is the high transaction costs associated with traditional payment systems. Intermediaries involved in processing payments often charge significant fees, reducing the profitability for sellers and increasing the prices for buyers. Moreover, existing marketplaces struggle with maintaining user data privacy, as personal information is often stored on centralized servers vulnerable to cyberattacks.
How Blockchain Ensures Security and Transparency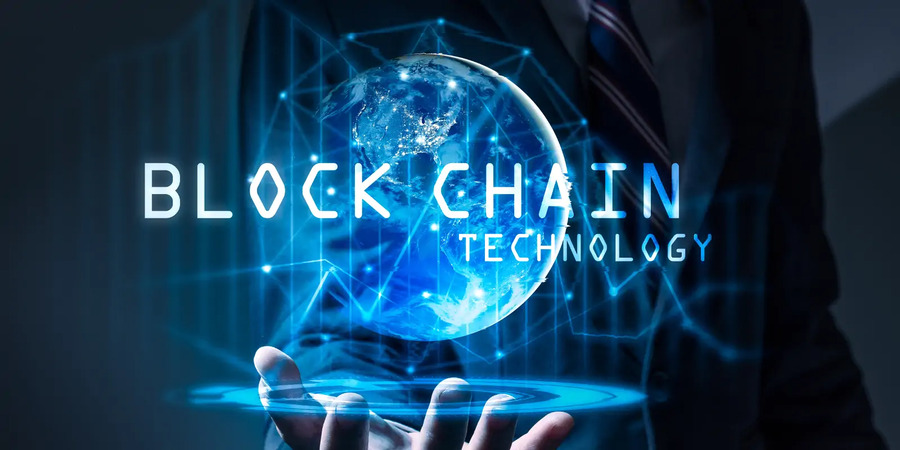 Blockchain technology provides a robust solution to the challenges faced by online marketplaces for used goods. Let's explore how blockchain ensures security and transparency in these platforms:
Decentralization and Consensus Mechanisms: Blockchain operates on a decentralized network of nodes, eliminating the need for a central authority. Transactions are verified through consensus mechanisms, such as Proof of Work (PoW) or Proof of Stake (PoS), which require network participants to validate and agree on the authenticity of transactions. This decentralized approach reduces the risk of fraudulent activities and ensures the integrity of the marketplace.
Immutable and Transparent Transaction Records: Once a transaction is recorded on the blockchain, it becomes immutable, meaning it cannot be altered or tampered with. This feature provides a transparent record of all transactions conducted on the marketplace. Every participant can access the transaction history, verifying the authenticity and ownership of goods being bought or sold. This transparency builds trust among buyers and sellers, as they can easily trace the origin and history of a particular item.
Smart Contracts for Secure Transactions: Smart contracts, which are self-executing contracts with predefined rules and conditions, play a vital role in ensuring secure transactions on blockchain-powered marketplaces. These contracts automatically execute and enforce the terms of an agreement between the buyer and seller. By eliminating the need for intermediaries, smart contracts reduce the risk of fraud and ensure that both parties fulfil their obligations. Payments are held in escrow until the conditions specified in the contract are met, providing security and peace of mind to both buyers and sellers.
Benefits of Blockchain in Online Marketplaces
Implementing blockchain technology in online marketplaces for used goods brings numerous benefits:
Trust and Reputation System: Blockchain-based marketplaces can integrate a trust and reputation system that enables users to rate and review each other after completing transactions. This system provides valuable information to potential buyers, helping them make informed decisions and choose reliable sellers. The transparent nature of blockchain ensures that the ratings and reviews are genuine and cannot be manipulated, further enhancing trust within the marketplace.
Reduced Fraud and Counterfeit Goods: By utilizing blockchain, online marketplaces can significantly reduce instances of fraud and the sale of counterfeit goods. Each item listed on the marketplace can be associated with a unique digital identifier recorded on the blockchain. This allows buyers to verify the authenticity and origin of the product, mitigating the risk of purchasing counterfeit or stolen items.
Lower Transaction Costs: Blockchain eliminates the need for intermediaries in payment processing, resulting in lower transaction costs for buyers and sellers. With traditional payment systems, fees can quickly add up, reducing sellers' profitability and increasing buyers' prices. By cutting out these intermediaries, blockchain-powered marketplaces offer a more cost-effective solution.
Improved Data Privacy: Centralized online marketplaces often store user data on vulnerable servers, making it susceptible to security breaches and unauthorized access. Blockchain technology provides a decentralized and encrypted approach to data storage, enhancing data privacy and security. Users have control over their personal information, deciding what data they want to share and with whom, reducing the risk of data breaches.
Enhanced Supply Chain Management: For marketplaces dealing with used goods, tracking the supply chain and verifying the authenticity of products can be challenging. Blockchain technology offers a transparent and traceable supply chain management system. Each transaction on the blockchain records the ownership transfer, maintenance history, and other relevant information about the product. This enables buyers to understand the item's background clearly, ensuring transparency and trust in the marketplace.
Real-World Examples of Blockchain-powered Marketplaces
Several blockchain-powered marketplaces have emerged, utilizing the technology to provide secure and transparent platforms for buying and selling used goods. Let's explore a few notable examples:
OpenBazaar: OpenBazaar is an open-source and decentralized peer-to-peer marketplace built on this technology. It allows users to create their online stores and conduct transactions directly with other participants. OpenBazaar's decentralized nature ensures security and eliminates the need for intermediaries, providing a truly peer-to-peer trading experience.
Bitify: Bitify is a blockchain-based marketplace specialising in selling digital goods and cryptocurrency-related items. It allows users to buy and sell products such as gift cards, software licenses, and domain names using various cryptocurrencies. The integration of blockchain ensures secure and transparent transactions, mitigating the risk of fraud.
Rarebits: Rarebits is a decentralized marketplace specifically designed for buying, selling, and trading digital collectibles, also known as non-fungible tokens (NFTs). It provides a platform for users to discover, buy, and sell unique digital assets, including digital art, virtual real estate, and virtual items for gaming. This technology ensures the authenticity and provenance of these digital collectibles, offering a secure and transparent marketplace for NFT enthusiasts.
SuperRare: SuperRare is another prominent marketplace for digital art on the blockchain. It supports and showcases digital artists by allowing them to create, sell, and collect rare digital artwork. Each artwork is represented as an NFT on the Ethereum blockchain, ensuring provenance and scarcity. SuperRare's marketplace has gained popularity among artists and collectors seeking a secure and transparent platform to trade digital art.
Rarible: Rarible is an open marketplace for creators and collectors to buy, sell, and trade digital assets. It enables users to create and sell their digital art, music, videos, and other unique digital creations as NFTs. Rarible provides an accessible platform for artists to monetize their work and connect with a global community of collectors. The use of blockchain ensures the ownership and authenticity of these digital assets.
Integration of Blockchain in Existing Platforms
The integration of blockchain technology in existing online marketplaces for used goods holds immense potential. Established platforms can leverage the benefits of this technology while retaining their user base and familiarity. By incorporating its features such as decentralized identity verification, smart contracts, and transparent transaction records, traditional marketplaces can enhance security, trust, and transparency for their users.
Implementing blockchain technology may require collaboration with blockchain experts and developers. However, the potential rewards, including increased user trust, reduced fraud, and improved transaction efficiency, make it a worthwhile endeavour for online marketplaces.
The Future of Blockchain in Online Marketplaces
The potential of blockchain technology in online marketplaces for used goods is immense. As the technology continues to evolve and gain wider adoption, we can expect further advancements in the field. Blockchain-powered marketplaces have the potential to become the standard for secure and transparent online transactions. They offer a solution to the challenges faced by traditional marketplaces, ensuring trust, reducing fraud, lowering costs, and enhancing data privacy.
Conclusion
Blockchain technology has the potential to revolutionize online marketplaces for used goods by providing security, trust, and transparency. By leveraging features such as decentralized consensus, immutable records, and smart contracts, it ensures secure transactions and reduces the risk of fraud. With benefits like lower transaction costs, improved data privacy, and enhanced supply chain management, blockchain-powered marketplaces offer a compelling solution for buyers and sellers alike. As technology continues to evolve, we can expect even more advanced features and widespread adoption, shaping the future of online marketplaces.
FAQs
Q: How does blockchain ensure the security of transactions on online marketplaces?
A: Blockchain ensures transaction security through its decentralized nature, consensus mechanisms, and the use of cryptography. These features make it difficult for malicious actors to manipulate or alter transaction records, enhancing security in online marketplaces.

Q: Are blockchain-powered marketplaces only suitable for digital goods, or can they also handle physical items?
A: Blockchain-powered marketplaces can handle both digital and physical goods. While digital goods like digital art and NFTs have gained significant traction, the technology can also be applied to verify the authenticity and ownership of physical items through unique identifiers recorded on the blockchain.

Q: Can blockchain-powered marketplaces protect buyers and sellers from disputes or fraudulent activities?
A: Blockchain-powered marketplaces can mitigate disputes and fraudulent activities through features such as smart contracts, transparent transaction records, and user reputation systems. Smart contracts automate and enforce agreed-upon conditions, while transparent records and reputation systems provide visibility into the history and reliability of participants.

Q: What are the advantages of using blockchain in online marketplaces compared to traditional platforms?
A: Blockchain brings several advantages to online marketplaces, including increased security, transparency, trust, and reduced costs. By removing intermediaries, blockchain reduces transaction fees and enhances data privacy, creating a more efficient and user-centric marketplace environment.

Q: Are blockchain-powered marketplaces regulated, and what are the implications for users?
A: The regulatory landscape for blockchain-powered marketplaces is still evolving in many jurisdictions. Users should familiarize themselves with relevant legal requirements and guidelines and the terms and conditions of their specific marketplace. Regulations may impact aspects such as taxation, consumer protection, and compliance with anti-money laundering measures.