Introduction
In recent years, the gaming industry has witnessed a remarkable technological innovation that has transformed the way players interact with virtual worlds. Non-Fungible Tokens (NFTs) have emerged as a groundbreaking concept, combining blockchain technology with gaming to revolutionize ownership and authenticity. This article explores the fascinating world of NFTs and their impact on blockchain gaming.
Understanding NFTs
NFTs are unique digital assets that are indivisible and cannot be exchanged on a one-to-one basis. Unlike cryptocurrencies such as Bitcoin or Ethereum, which are fungible and interchangeable, NFTs represent ownership of a specific item or piece of content. These items can range from in-game assets, artwork, virtual real estate, or even virtual pets.
How NFTs Work
NFTs utilize blockchain technology, which provides a decentralized and transparent ledger for recording ownership and transactions. Each NFT is associated with a unique identifier stored on the blockchain, making it impossible to counterfeit or duplicate. Smart contracts govern the ownership rights, ensuring secure and verifiable transactions.
NFTs in Blockchain Gaming
The integration of NFTs in blockchain gaming has unlocked new possibilities for players and developers alike. It enables players to truly own their in-game assets, granting them exclusive rights and control over their virtual possessions. This ownership extends beyond the game itself, allowing players to trade, sell, or even loan their NFTs to other players.
Benefits of NFTs in Gaming
Collectibles and Virtual Assets: NFTs allow players to collect unique virtual items, fostering a sense of rarity and exclusivity within the gaming community. These collectibles can appreciate in value, creating a new form of digital investment.
Interoperability and Cross-Platform Gaming: NFTs are not limited to a single game or platform. They can be utilized across multiple games and ecosystems, enabling seamless interoperability and cross-platform experiences for players.
Monetizing Gameplay and Creativity: NFTs provide opportunities for players to monetize their skills and creativity. Gamers can sell rare items, artwork, or even customizations they create within the game, opening up avenues for entrepreneurship and earning real-world value.
Enhanced Player Experience: NFTs introduce a new layer of personalization and customization. Players can own unique avatars, in-game properties, or virtual pets, fostering a deeper emotional connection and enhancing the overall gaming experience.
Challenges and Risks
While NFTs offer exciting possibilities, there are challenges and risks to consider. Some concerns include:
Environmental Impact: The energy consumption associated with blockchain transactions is a significant concern, and efforts are being made to address this issue.
Scalability: As the popularity of NFTs continues to grow, scalability becomes a challenge. Blockchain networks need to handle an increasing number of transactions efficiently.
Fraud and Counterfeit: The NFT space is not immune to fraud and counterfeit activities. It is crucial for users to exercise caution and verify the authenticity of NFTs before making transactions.
Future of NFTs in Gaming
The future of NFTs in gaming looks promising. As technology advances and user adoption increases, we can expect further innovation in the intersection of blockchain and gaming. NFTs have the potential to reshape the gaming industry, allowing for new business models, enhanced player experiences, and decentralized gaming economies.
Examples of NFT-Powered Games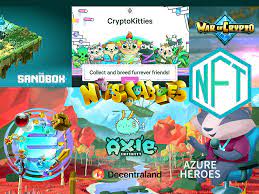 Several games have embraced NFTs, demonstrating their potential. Some notable examples include:
Axie Infinity: A popular blockchain game that allows players to breed, trade, and battle creatures known as Axies. Each Axie is an NFT with unique traits and characteristics.
Decentraland: A virtual reality platform powered by Ethereum, where users can own, build, and trade virtual real estate and digital assets.
CryptoKitties: One of the first NFT-based games that gained significant attention. Players can collect, breed, and trade virtual cats, each represented by an NFT.
The Role of Blockchain Technology
Blockchain technology is the foundation that enables the secure and transparent nature of NFTs. Its decentralized architecture ensures that ownership records are immutable and resistant to tampering, providing players with a reliable system for buying, selling, and trading virtual assets.
Community and Ownership
NFTs foster a sense of community among players. The ability to own and trade unique items creates social interactions and collaborations within gaming communities. Players can form vibrant marketplaces, guilds, and alliances, leading to a more engaging and immersive gaming environment.
NFTs and Game Economies
NFTs have had a profound impact on game economies, introducing new dynamics and possibilities. In traditional gaming, players often spend hours acquiring in-game items or currency, only to find that their efforts hold no real-world value. With NFTs, the virtual assets players acquire have inherent value that can be bought, sold, or traded outside the game. This has led to the emergence of decentralized gaming economies, where players can earn a living by participating in the virtual world.
In these economies, players can become entrepreneurs, utilizing their skills and knowledge to generate income. They can create and sell unique in-game items, artwork, or even provide services like character leveling or game coaching. The ability to monetize gameplay and creativity has opened up exciting opportunities for players to turn their passion for gaming into a viable source of income.
NFT Marketplaces and Trading Platforms
The rise of NFTs has spawned a thriving ecosystem of NFT marketplaces and trading platforms. These platforms act as digital marketplaces where users can buy, sell, and trade NFTs with ease. They provide a user-friendly interface and a secure environment for conducting transactions.
Some popular NFT marketplaces include OpenSea, Rarible, and NBA Top Shot. These platforms offer a wide range of NFTs, including gaming assets, digital art, and collectibles. Users can browse through various categories, explore trending NFTs, and participate in auctions or direct purchases.
The trading of NFTs has become a global phenomenon, attracting both collectors and investors. Rare and unique NFTs can fetch significant prices, creating opportunities for artists, game developers, and players to benefit financially from their creations and achievements.
NFTs and Intellectual Property Rights
The introduction of NFTs in gaming has raised important questions regarding intellectual property rights. With players able to create and trade their own virtual assets, issues of copyright infringement and unauthorized use become pertinent.
However, NFTs also present an opportunity for creators to protect their intellectual property and establish ownership rights. Through the use of smart contracts, creators can set rules and restrictions on how their NFTs can be used or replicated. This provides a level of control and traceability, ensuring that creators receive appropriate recognition and compensation for their work.
As the NFT ecosystem continues to evolve, it is crucial to address these intellectual property concerns and establish clear guidelines to protect the rights of creators, developers, and players.
NFTs and Game Development
The integration of NFTs has sparked innovation in game development. Developers now have the ability to create games that leverage the benefits of blockchain technology and NFTs. This opens up avenues for unique gameplay mechanics, enhanced player experiences, and novel monetization models.
Game developers can design games where players truly own their in-game assets, fostering a sense of investment and engagement. They can implement mechanics that reward players with NFTs for achieving milestones or completing challenges, creating a tangible sense of accomplishment. Additionally, developers can leverage the interoperability of NFTs to allow players to use their virtual assets across multiple games, providing a seamless and immersive gaming experience.
The integration of NFTs also enables players to contribute to the development process. Developers can engage the community by allowing them to create and submit NFTs, such as skins or accessories, which can be incorporated into the game. This collaborative approach enhances player involvement and fosters a stronger sense of ownership and community.
NFTs and Game Accessibility
NFTs have the potential to improve game accessibility by providing players with more control and ownership over their gaming experience. In traditional gaming, players often rely on centralized servers and platforms, which can limit their ability to modify or customize the game to suit their preferences.
With NFTs, players can personalize and enhance their gameplay by owning and trading unique assets. They can customize their avatars, acquire rare items, or even create their own in-game content. This level of personalization fosters a sense of agency and empowers players to tailor their gaming experience according to their preferences.
Furthermore, NFTs can also enable cross-platform compatibility, allowing players to access their virtual assets across different devices or gaming platforms. This interoperability enhances accessibility and convenience, as players can seamlessly transition between devices without losing their progress or virtual possessions.
NFTs and Community-driven Development
The introduction of NFTs in gaming has facilitated community-driven development, where players actively participate in shaping the game's evolution. Through platforms like decentralized autonomous organizations (DAOs), players can contribute to decision-making processes, propose new features, and vote on important game-related matters.
NFTs play a crucial role in this ecosystem by representing voting rights or governance tokens within the DAO. Players who own these NFTs can have a direct say in the game's development roadmap, contributing to its overall direction and growth.
Community-driven development fosters a sense of ownership and inclusivity, allowing players to feel invested in the game's success. It creates a collaborative environment where developers and players work together to shape the game's future, leading to more engaging and player-centric experiences.
NFTs and Authenticity in Gaming
Authenticity is a critical aspect of the gaming experience, and NFTs provide a unique solution to address this need. In traditional gaming, players often encounter issues with counterfeit items, unauthorized duplication, or the lack of verifiable scarcity.
NFTs address these concerns by utilizing blockchain technology to establish provable ownership and authenticity. Each NFT is tied to a specific digital asset, and its ownership history is transparently recorded on the blockchain. This ensures that players can verify the rarity and uniqueness of their virtual items, eliminating the risk of counterfeit or unauthorized duplication.
The concept of digital scarcity, made possible through NFTs, adds value and excitement to the gaming experience. Players can own limited edition items, rare collectibles, or unique in-game properties, knowing that their authenticity and scarcity are guaranteed.
NFTs and Inclusivity in Gaming
NFTs have the potential to foster inclusivity in gaming by providing opportunities for underrepresented creators and players. In traditional gaming, the industry's gatekeepers often control the distribution and monetization of games, limiting the involvement of diverse voices and perspectives.
With NFTs, creators can independently develop and monetize their games, bypassing the traditional publishing barriers. This allows for a more diverse range of games to flourish, catering to various interests, cultures, and niche communities.
Furthermore, NFTs enable players to support their favorite creators directly. Players can purchase NFTs or participate in crowdfunding campaigns, providing financial backing and encouragement to independent developers who may not have access to traditional funding sources. This democratization of the gaming industry creates a more inclusive ecosystem, where creativity and innovation can thrive.
Conclusion
NFTs have ushered in a new era of ownership and value in the world of blockchain gaming. With the ability to truly own and trade virtual assets, players can experience gaming in unprecedented ways. As technology evolves and more games embrace NFTs, we can anticipate exciting developments, enhanced player experiences, and a thriving decentralized gaming ecosystem.