In today's digital landscape, the use of DeFi (decentralized finance) wallets has gained significant traction. DeFi wallets provide individuals with full control over their digital assets, enabling them to participate in various DeFi protocols, stake their cryptocurrencies, and engage in decentralized trading. However, the security of the DeFi wallet becomes paramount due to the potential risks associated with holding and transacting digital assets. In this article, we will explore best practices for securing DeFi wallets and ensuring the safety of your valuable digital assets.
Understanding DeFi Wallet
Before delving into the security aspects, it's crucial to understand what DeFi wallets are and how they function. DeFi wallets are digital wallets that allow users to store, manage, and interact with their cryptocurrencies in the decentralized finance ecosystem. These wallets utilize blockchain technology to facilitate secure transactions and provide users with control over their private keys.
There are two main types of DeFi wallets: hot wallets and cold wallets. Hot wallets are connected to the internet and enable easy accessibility, making them suitable for frequent transactions. Cold wallets, on the other hand, are offline devices that store private keys and provide enhanced security by isolating the keys from potential online threats.
Private keys and seed phrases are essential components of DeFi wallets. Private keys are unique cryptographic codes that grant access to the wallet and should be kept secure. Seed phrases, also known as recovery phrases or mnemonic phrases, are a series of words that act as a backup for the private keys. It is crucial to store seed phrases in a safe and offline location.
Common Security Risks in DeFi Wallet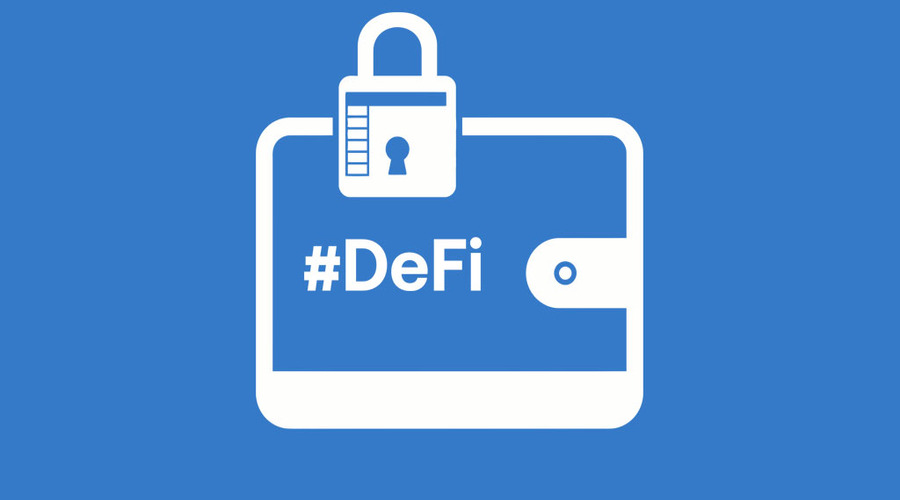 While DeFi wallets offer enhanced control and financial sovereignty, they also come with certain security risks. It's important to be aware of these risks to mitigate potential vulnerabilities. Some common security risks in DeFi wallets include:
Phishing attacks: Phishing attacks involve malicious actors attempting to trick users into revealing their private keys or seed phrases through fraudulent websites, emails, or messages. These attacks often mimic legitimate platforms, making it essential to be cautious and verify the authenticity of any communication or website.
Malware and keyloggers: Malware and keyloggers can compromise the security of a DeFi wallet by capturing keystrokes or gaining unauthorized access to the device. Users should exercise caution when downloading and installing software, especially from untrusted sources.
Social engineering: Social engineering involves manipulating individuals into revealing sensitive information. Attackers may impersonate trusted entities or use psychological tactics to deceive users. Being vigilant and verifying the authenticity of any requests or communications is crucial in preventing social engineering attacks.
Centralized exchange risks: Some individuals choose to store their digital assets on centralized exchanges rather than in personal wallets. However, this approach comes with inherent risks, such as hacking or insolvency of the exchange. It is generally recommended to maintain control over your private keys by using self-custody solutions.
Best Practices for DeFi Wallet Security
To enhance the security of your DeFi wallet and protect your digital assets, consider implementing the following best practices:
1. Choosing a reputable wallet provider
Selecting a reputable wallet provider is a crucial first step in securing your digital assets. Conduct thorough research, read reviews, and consider factors such as the wallet's track record, security features, and community trust before making a decision.
2. Implementing strong passwords and multi-factor authentication
Create strong, unique passwords for your DeFi wallet and avoid reusing passwords across multiple platforms. Enable multi-factor authentication (MFA) whenever possible, as it adds an extra layer of security by requiring an additional verification step.
3. Using hardware wallets
Hardware wallets offer an added layer of security by keeping private keys offline. These devices are specifically designed to protect digital assets from online threats. Invest in a reputable hardware wallet and follow the manufacturer's instructions for proper setup and usage.
4. Regularly updating wallet software
Keeping your wallet software up to date is essential for maintaining security. Wallet providers frequently release updates that address vulnerabilities and improve the overall security of the platform. Regularly check for updates and install them promptly.
5. Being cautious of suspicious links and emails
Exercise caution when clicking on links or opening attachments in emails, as they may lead to phishing websites or malware downloads. Always verify the source and legitimacy of any communication before taking action.
6. Avoiding public Wi-Fi networks
Public Wi-Fi networks can be vulnerable to attacks, as hackers may intercept data transmitted over these networks. Whenever possible, avoid using public Wi-Fi when accessing your DeFi wallet or conducting financial transactions.
7. Enabling withdrawal whitelisting
Some DeFi wallets offer withdrawal whitelisting, allowing you to specify a list of approved addresses for withdrawals. By enabling
this feature, you add an extra layer of protection, as any attempted withdrawals to unapproved addresses will be blocked.
8. Keeping backups and securely storing seed phrases
Regularly back up your wallet data and store the backups in secure locations. In the event of device loss or failure, having a backup ensures you can recover your wallet and access your digital assets. Safely store seed phrases offline in a fireproof and waterproof container.
Security Measures for Mobile DeFi Wallet
Mobile wallets provide convenience and accessibility but require additional security measures due to the nature of mobile devices. Consider the following security measures when using a mobile wallet:
Installing apps from trusted sources: Only download wallet apps from official app stores or reputable sources. Avoid sideloading apps from third-party websites, as they may contain malicious code.
Keeping devices and apps up to date: Regularly update your mobile device's operating system and wallet app to ensure you have the latest security patches and bug fixes.
Enabling device security features: Utilize security features such as biometric authentication (fingerprint or face recognition) and device encryption to secure your mobile device and wallet app.
Utilizing biometric authentication: Enable biometric authentication within your mobile wallet to add an extra layer of security. Biometric factors such as fingerprint or facial recognition provide unique and secure access to your wallet.
Security Measures for Web DeFi Wallet
Web wallets offer convenience but require additional security measures to protect against online threats. Consider the following security measures when using a web wallet:
Verifying SSL certificates: When accessing a web wallet, ensure that the website has a valid SSL certificate. Look for the padlock icon in the browser's address bar, indicating a secure connection.
Checking for secure URLs (https): Verify that the URL of the web wallet begins with "https" rather than "http." The "s" in "https" indicates a secure connection, encrypting data transmitted between your device and the website.
Using browser extensions for added security: Consider using browser extensions that provide additional security features, such as blocking malicious websites or warning against phishing attempts.
Being cautious of browser extensions and plugins: Be mindful of the browser extensions and plugins you install, as they can potentially access your web wallet information. Only install extensions from trusted sources and review their permissions carefully.
Security Measures for Desktop DeFi Wallet
Desktop wallets offer increased control but require specific security measures to safeguard your digital assets. Consider the following security measures when using a desktop wallet:
Regularly updating operating systems and software: Keep your desktop operating system and wallet software up to date with the latest security patches. Regular updates help protect against newly discovered vulnerabilities.
Using antivirus and firewall protection: Install reputable antivirus software and enable firewall protection on your desktop to detect and prevent malware or unauthorized access.
Encrypting wallets and storage devices: Encrypt your desktop wallet and any external storage devices that contain wallet backups. Encryption adds an extra layer of protection to your digital assets.
Securing physical access to the device: Ensure physical access to your desktop device is restricted. Lock your computer when not in use and consider additional security measures such as cable locks or secure storage.
Security Measures for Hardware DeFi Wallet
Hardware wallets are considered one of the most secure options for storing digital assets. Nevertheless, it's important to follow specific security measures to maximize their effectiveness. Consider the following when using a hardware wallet:
Authenticating transactions on the device: Always verify and authenticate transactions directly on the hardware wallet's screen. This ensures that the transaction details have not been tampered with or compromised.
Verifying the recipient's address: Double-check the recipient address on the hardware wallet's display before confirming any transaction. Malicious software or phishing attempts may attempt to change the destination address.
Keeping the firmware up to date: Regularly check for firmware updates provided by the hardware wallet manufacturer and install them promptly. Firmware updates often include security enhancements.
Protecting the recovery seed phrase: Safeguard your recovery seed phrase by storing it offline and in a secure location. Never share your seed phrase with anyone, and be cautious of storing it digitally, as it can be vulnerable to online threats.
Diversification and Risk Management
In addition to implementing strong security measures, diversification and risk management play a crucial role in safeguarding your digital assets. Consider the following practices:
Spreading your digital assets across multiple wallets reduces the risk of a single point of failure.
Understand the risks associated with centralized platforms, such as exchanges, and evaluate the security measures they have in place.
Stay informed about the latest security threats and best practices by following reputable security experts, participating in communities, and staying up to date with industry news.
Importance of Regular Security Audits
To ensure the highest level of security, it is important to conduct regular security audits of your wallet and associated platforms. Consider the following practices:
Engage in independent security audits to identify vulnerabilities and weaknesses in your wallet's infrastructure.
Participate in bug bounty programs offered by wallet providers and security-focused platforms. Rewarding researchers for discovering vulnerabilities can help identify and fix potential security issues.
Stay informed about security practices and emerging threats by following reputable security experts and communities.
Conclusion
Securing your DeFi wallet is of utmost importance to protect your valuable digital assets. By implementing best practices, such as choosing reputable wallets, using strong passwords, enabling multi-factor authentication, and considering hardware wallets, you can significantly enhance the security of your digital assets. Additionally, following specific security measures for mobile wallets, web wallets, desktop wallets, and hardware wallets ensures comprehensive protection. Remember to diversify your assets and stay informed about the latest security threats. By taking these steps, you can confidently navigate the world of DeFi wallets and safeguard your digital wealth.
FAQs
Q: What is a DeFi wallet? A: A DeFi wallet is a digital wallet that allows individuals to store, manage, and interact with their cryptocurrencies in the decentralized finance ecosystem. It enables users to participate in various DeFi protocols and maintain control over their private keys.
Q: How do I choose a secure DeFi wallet? A: When choosing a secure DeFi wallet, consider factors such as the wallet provider's reputation, security features, community trust, and track record. Conduct thorough research and read reviews to make an informed decision.
Q: Is it safe to use a mobile wallet? A: Mobile wallets can be safe if you follow proper security measures, such as installing apps from trusted sources, keeping your device and apps up to date, enabling device security features, and utilizing biometric authentication.
Q: Can I recover my funds if I lose my wallet? A: If you lose access to your wallet, you can recover your funds by using the recovery seed phrase or backup file associated with your wallet. It's important to store this information in an offline and safe location securely.
Q: What should I do if I suspect my wallet has been compromised? A: If you suspect your wallet has been compromised, take immediate action. Disconnect your device from the internet, contact the wallet provider's support team for guidance, and consider transferring your funds to a new, secure wallet. It's important to act swiftly to prevent further unauthorized access.